Have you ever gotten into.a cleaning spree and then misplaced something.really important. Well I did. I've been working on my snowman ornament and.my spring PS design . Well I can't find.them and I need them for exchanges at the end of the month. I can always do another snowman ornie but I only have the one.PS leaflet that I bought special for this exchange. Grrrr!
Please pray I will find it soon.
I'm still on cloud nine over the giveaway I won from shawkl (Kathy). I love everything so much. One of my favorites is the.cute hat pins. I will make a pin cushion soon to poke them in and show them off.
Jim bought me this stuff a while back and I wanted to show it off to you. I think most all of it came from half price books and many were a dollar or two in the clearance section.
This is a book called A Year of Cross Stitch by Jodie Davis. It's from the Jodie Davis Needle Arts School. It really has some beautiful stuff in it. The design pictured is called Village Sampler. It uses CW thread and also DMC flower.threads. jolly forward to making it sometime. There are other samplers,beaded cross stitch, and more.
This one is called Patchwork Pantry by Suzette Hafferty.and Carol Porter. It is really nice with some exciting quilts and.delicious recipes. Some I can't wait to try for Jim and I. This book is.well written with.beautiful photos and quilts.
The others are all quilt books. Can't wa?nlĺ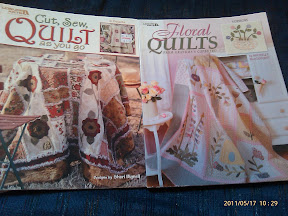 I love this embroidery pattern transfer book by Current. The animal pictures are so cute. I have always loved stuff by current.
Here is a really nice home decor book by Coats and Clark. The step by step instruction is amazing.
Blessed stitching,
AT
posted from Bloggeroid